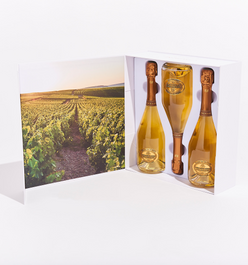 Blanc de Blancs Box
Limited availability
Contents: 3 bottles of Blanc de Blancs
Our Blanc de Blancs Box is one of the attainments of our work and know-how. These iconic cuvees of the House Frerejean Frères is an invitation to adorn your most beautiful tables. It's a limited edition, and we only made 500 boxes so far. 
Reviews
"One of the ultimate Blanc de Blancs on the market"

RICHARD JUHLIN, Champagne-tasting world record holder since 1998
Composition
100% Chardonnay
Tasting Notes
Passion fruit, mango, citrus and papaya on the nose, followed by a balanced palette of minerality and acidity make for an elegant whole.
Ideal
To share during your celebrations with family and friends